Why does hot bread smell so enticing that you want to rip right into it?
What's more tempting is seeing the butter melt into that freshly-baked goodies.
The problem is, the last part of the baking instruction said let it cool completely.
Does it go for all types of bread?
Should you slice bread hot or cold? Does it make any difference if you do it either way?
How long should you let the bread cool before slicing?
Can You Eat Bread Straight from the Oven?
Of course, you can.
After all, it's hard to resist eating bread fresh out of the oven. The problem is, you will lose the structure of the bread if it's cut early.
In baking, the cooking process does not stop after you have removed the bread from the oven.
The heat continues to bake the bread until it's completely cooled or at least once it reached room temperature.
Gluten forms the structure of the bread.
On the other hand, starch fills the bread's interior and provides the sheen on its exterior.
As you take out the bread from the oven, the hot starch is still full of water.
Slicing the bread at this stage will only squish and deform it.
Allow the bread to cool completely to enhance its flavor and texture.
Why Is Warm Bread Bad for You?
There is a belief that eating warm bread is dangerous to the health.
Grandmothers even say that our stomachs will block digestion if we indulge on warm bread.
Is there a grain of truth in this belief? Should we refrain from consuming warm bread and baked goodies from now on?
There's been plenty of speculations about the dangers of eating hot or warm bread, but it seems that there's no factual evidence of this yet.
Nonetheless, we found a sensible explanation concerning the belief that we want to share with you.
It came from the book The Relation of Food to Health and Premature Death.
The author explained that hot bread has more moisture, making it more doughy and hard for the particles to separate inside the mouth.
As a result, you tend to swallow sticky lumps of this hot and doughy bread. It stays in the stomach longer until fermentation is formed.
It's true for yeast bread because the ferment stays on the bread for six to eight hours after baking.
How Long Should You Let Bread Cool Before Slicing?
Cooling your baked goods is crucial in bread production.
Consequently, there are many aspects to know how long to let bread cool before it's ready for slicing.
As a general rule, you have to let the bread firm up and cool to room temperature before you start slicing.
Alternatively, there are bread types that do not require internal cooking while cooling, like baguettes and rolls.
You just have to make sure that air can circulate properly by placing the bread on a wire rack after removing it from the oven.
Allowing the bread to cool completes the cooking process, making it easier to slice.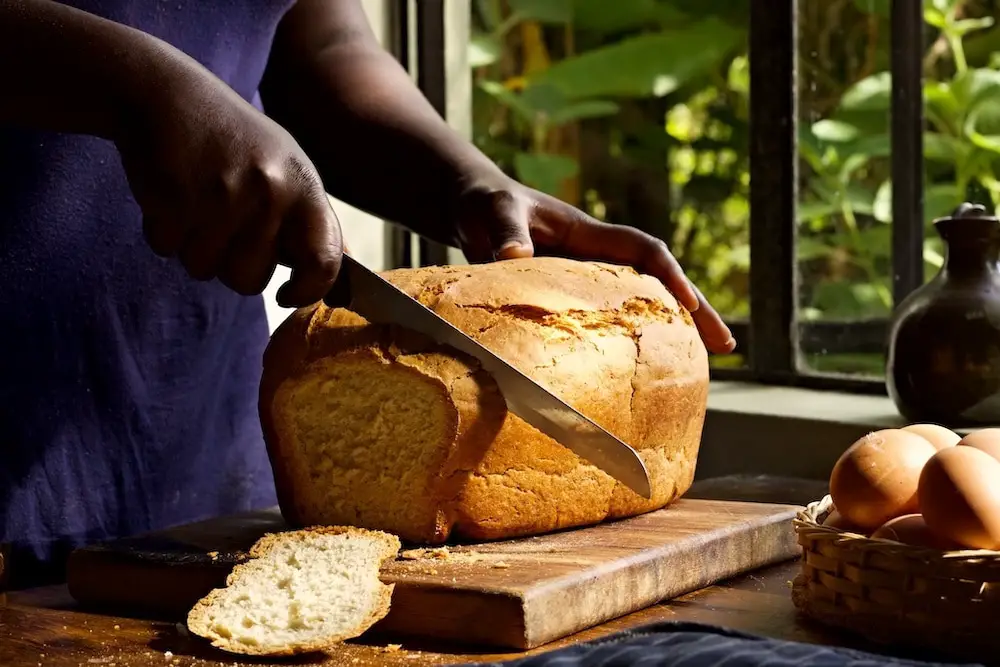 How Do You Slice Fresh Baked Bread?
Should you slice bread hot or cold? You already know the answer of this. The next step is to learn how to slice it.
It may sound easy but slicing freshly baked bread is quite challenging, especially for beginners.
You could either crush the bread or make uneven slices.
Check out the step-by-step guide to making even bread slices below:
Step 1: Use a sharp bread knife.
Get a sharp bread slicing knife and use a gentle sawing motion to cut through the crust.
This action minimizes the pressure on the bread.
The long-serrated slicing-edge of the knife will help you cut through the bread using the right technique.
Step 2: Position the bread correctly.
The bread must be on its side to get a perfect slice. The sides of most homemade bread are short and firm.
For this reason, the first and last pressure is put on the shortest part of the bread.
Step 3: Let your bread knife do the slicing.
Even if you have the sharpest bread knife, you must also use the correct slicing technique.
You don't need to use force when slicing your bread. Allow the knife do the work.
Position your bread knife parallel to the chopping board and not angled downward.
Hold the bread with one hand while you make a gentle sawing motion with the knife without forcing it downward.
Step 4: Use cutting tools.
This last step is more of a tip if you want to create perfect even slices.
There are plenty of bread slicing guides you can try.
This tool will help keep your bread knife in place through the measured slots on each side, guiding it through each slice.
It comes in various designs and materials, too. Some even come with a crumb holder, while others are collapsible.
How To Store Fresh Baked Bread
Some bread has a short shelf life.
If you know how to store your freshly baked bread, you might just add a few more days to its lifespan.
Here are some of the best ways to preserve and store your bread.
Freeze
Your bread will last the longest when put in the freezer wrapped in a freezer bag.
Put it inside the refrigerator overnight if you need to defrost it.
Store in Paper
Store your bread in a paper bag. Plastic bags or containers will encourage mold to grow faster.
Freshly-baked bread is best consumed within two to three days after baking.
Use Bread Boxes
Besides keeping your bread fresh through the small holes, bread boxes are a stylish addition to your kitchen countertop.
Storage Location
Pick a dry and cool area in your kitchen to store your bread.
You can put it on the countertop, in a deep drawer, or inside a cabinet.
Should You Slice Bread Hot or Cold?
You now have an idea if you should slice bread hot or cold. Additionally, you now know how long to let bread cool before slicing.
Make sure you also observe proper bread storage so that you can enjoy your favorite loaf longer.
So, has your freshly-baked bread cooled down enough after reading this article?
That's good, then. You can start slicing it now and indulge.