If you're looking for kitchen knives, Japan has some of the best manufacturers in the world.
Among the different brands, Shun and Miyabi are known for their high-end knives.
Since both brands are located in Seki City, Japan, many Miyabi vs Shun knives comparisons are going around the Internet.
You can never go wrong no matter which brand you choose, but it's better to understand how their knives fare against each other.
We listed down some simple comparisons between these two popular knife brands in Japan.
Miyabi vs. Shun Companies
As manufacturers, Miyabi and Shun are using different techniques in the creation of their kitchen knives.
Let's find out the primary difference between the two brands.
Shun Cutlery
Shun Cutlery has been in the knife manufacturing industry for more than 100 years.
They are considered one of the biggest Japanese cutlery manufacturers in the region. Every blade is handmade by Shun artisans.
Their knives also come with an iconic aesthetic to help you distinguish them from other competitor knives.
Shun Cutlery uses the same methods and techniques to create a Japanese sword.
That means this particular brand uses pure Japanese methods.
Miyabi
Miyabi was established in 2004, making the brand fairly new to the kitchen knife competition.
It is a company established by a German knife manufacturing company known as Zwilling J.A. Henckels.
That is why their knives have a touch of German techniques.
Miyabi knives are made through Japanese craftsmanship and German engineering, creating unique and high-quality kitchen knives.
It takes around 42 days to complete their knives.
Although not all of the knives are handmade, the quality is indisputable.
Miyabi vs Shun Knives
Now that you've got an idea about the background of the two manufacturers, the next comparison would be on the most popular kitchen knives they are offering.
1. Chef's Knives
The Shun Classic 8" Chef's Knife is an amazing pick because of its blade and handle.
It's made of 39 layers of stainless steel for a total of 69 layers.
The combination of extra tungsten and chromium gives it better corrosion resistance and a sharper edge.
Carbon is also added for durability and extra cobalt to provide more strength to the blade.
The handle is made of ebony PakkaWood and infused with a certain resin that offers a water-resistant finish.
The Miyabi Kaizen Chef's Knife is a great competitor for the Shun Classic since it comes with a blade with 65 layers for better durability and cutting edge.
In terms of sharpness, it is better than the Shun blade because of its 9.5 to 12-degree angle and thin profile.
It is a good choice for slicing meat and other tough items.
The handle is not too ergonomic, but it would fit well in different sizes of hands.
Which Is Better?
The Miyabi Kaizen Chef's Knife has a slight advantage because of its sharper and thinner blade.
Although the wood handle of the Shun Classic is better, it is only for aesthetic benefit.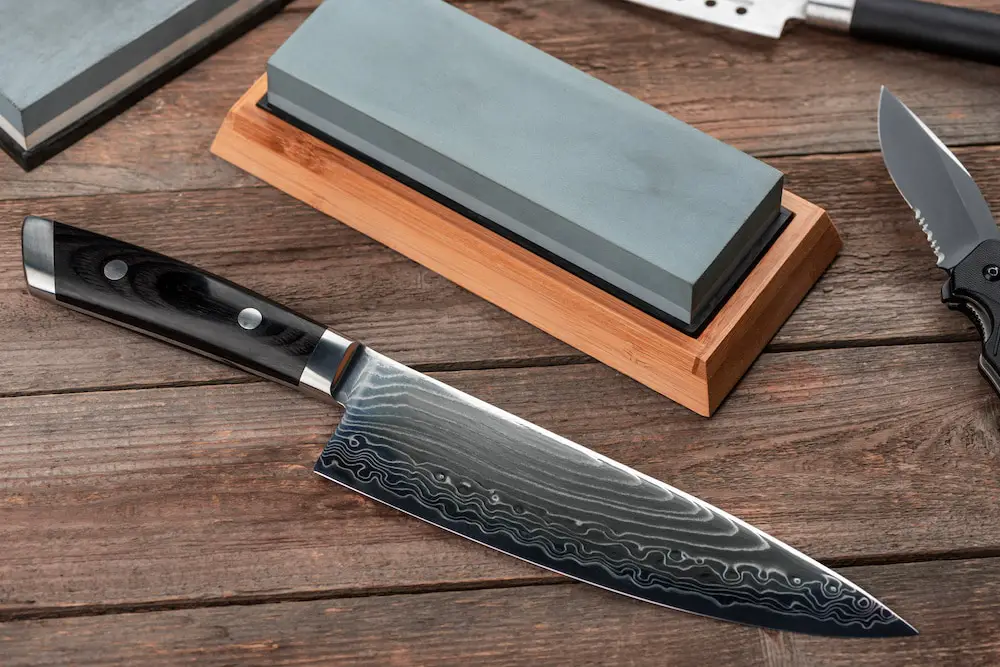 2. Nakiri Knives
The Shun Premier Nakiri Knife is a 5.5-inch blade, which is very thin, making it a perfect choice for cutting vegetables.
The blade is actually layered using the Damascus style, so you can strike your cutting board without affecting the blade's integrity.
It comes with a PakkaWood handle with moisture-resistant features.
It's very comfortable to hold and would naturally fit in the palm of your hand.
On the contrary, the Miyabi Mizu SG2 is 6.5 inches long, a bit longer than the Shun Premier.
It also uses a Damascus layering steel design, giving it more durability and a better edge.
Again, it's sharper than the Shun blade, with the edge ranging from nine to 12 degrees depending on the model.
It also features a D-shaped handle with water-resistant features and a wood-like texture.
Which Is Better?
Miyabi has a slight advantage again because of its sharpness.
It is also more expensive because of its extended length and sharpness.
Shun is a better choice if you prefer a more affordable knife.
It is also a great choice if you're looking at pure aesthetics.
3. Paring Knives
The Shun Classic paring knife is 3.5 inches long, which is the perfect size to give you complete control over your cutting.
It also helps you make more precise cuts, especially when peeling fruits and vegetables.
The blade is also excellent as it can retain its edge for a long time because of the steel formula used to manufacture it.
Composed of 34 layers of stainless steel, it is more durable compared with other paring knives.
This paring knife also features a V-shaped ebony wooden handle that complements the knife's appearance and provides comfort while using it.
The Miyabi Mizu SG2 is also 3.5 inches long and comes with a Damascus-style stainless steel blade.
This particular model is durable and has gone through a special ice-hardening process to improve its durability and edge efficiency.
The black handle is very comfortable to use since it gives more balance when using the knife.
The shape of the handle allows you to control the paring knife properly.
Which Is Better?
Miyabi offers a sharper blade once again, but Shun completely overshadows it with its durability and affordability.
If you plan to use the blade regularly, you might consider the Shun model.
That's because it will not lose its edge easily and is more affordable.
If you really need a sharp blade, then you can opt for the Miyabi knife, even if it's a bit expensive.
Final Verdict
It's not easy to decide when it comes to the Miyabi vs Shun knives comparison.
Choosing between the two brands is a bit difficult because they have different specialties regarding knives.
Miyabi focuses more on the blade's sharpness, while Shun concentrates on aesthetics and long-term usage.
The best way to choose a brand is to figure out the kind of task you need to accomplish.
If you need a sharp blade, Miyabi is the best choice.
If you need the knife to last for a long time and retain its edge, you can opt for the Shun brand.